Welcome To Our ACD Gallery
These are pups that were sold in 2003
"Cute photo"


On September 14, 2008 Cadee earned her
Canine Good Citizen certification (CGC).


As we grow up, we learn that even the one person that wasn't supposed to ever let you down probably will.
You will have your heart broken probably more than once and it's harder every time.
You'll break hearts too, so remember how it felt when yours was broken.
You'll fight with your best friend. You'll blame a new love for things an old one did.
You'll cry because time is passing too fast, and you'll eventually lose someone you love.
So take too many pictures, laugh too much, and love like you've never been hurt,
because every sixty seconds you spend upset is a minute of happiness you'll never get back.
Don't be afraid that your life will end, be afraid that it will never begin.







Kracker (5 weeks)

*** South Haven's Uncle Kracker
Sing N Happy Trails

Gracie and Faith (5 weeks)

Gracie (5 weeks)

*** Happy Trails Caution-Grace
Under Fire

| | |
| --- | --- |
| | Kracker at CSA with a new puppy friend. |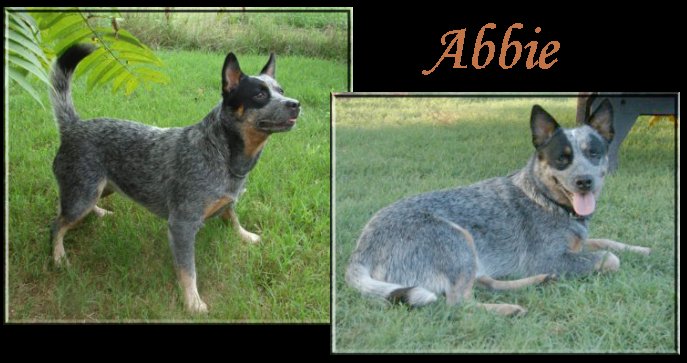 "Abbie" is our first cattle dog to obtain her AKC Championship title.
We now have several more cattle dogs that are also AKC pointed.
AKC CH Jon's J-L Little Miss Jingle N Spur CGC TDI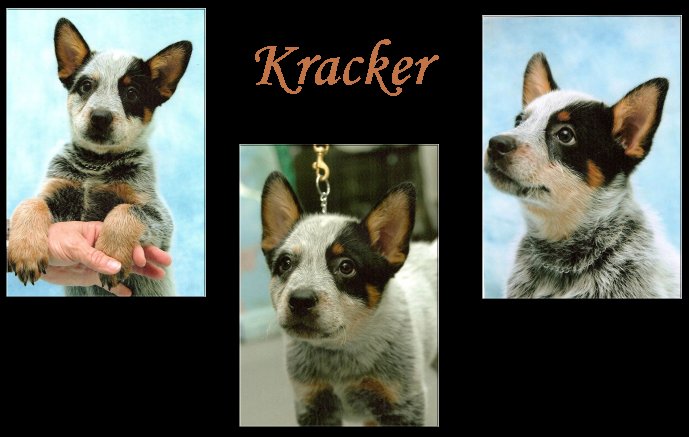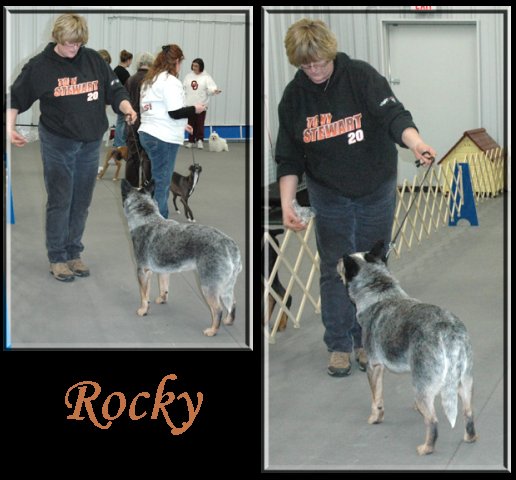 "Rocky" in training in the above photos...he is a champion now.
AKC CH Mr DJ Rocketman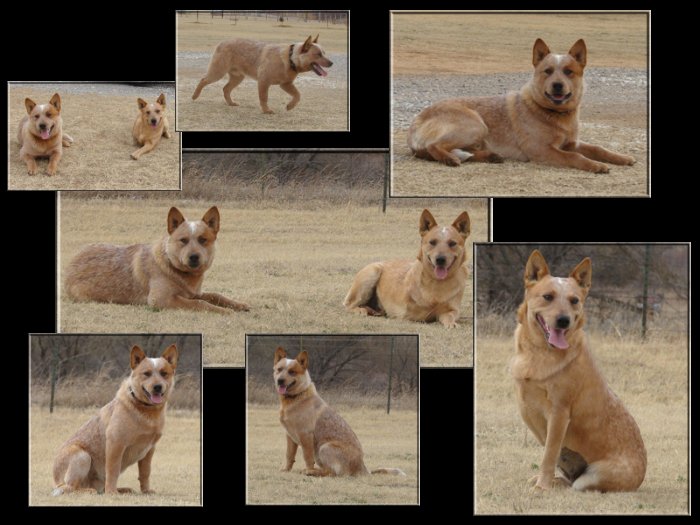 Jon's J-L Rock N Roll Ruby aka "Ruby E" was out working and had an injury that had to remove her right front leg. However, this does not keep her from working. The young man that owns Ruby E wanted another dog, so Ruby E was bred to Mr. DJ Rocketman. From that one and only breeding (Ruby E is now spayed) out comes Happy Trails Smoke N Dynamite. Beautiful and striking young man. He and mom both team up and make a great working pair on cattle at any given time when asked.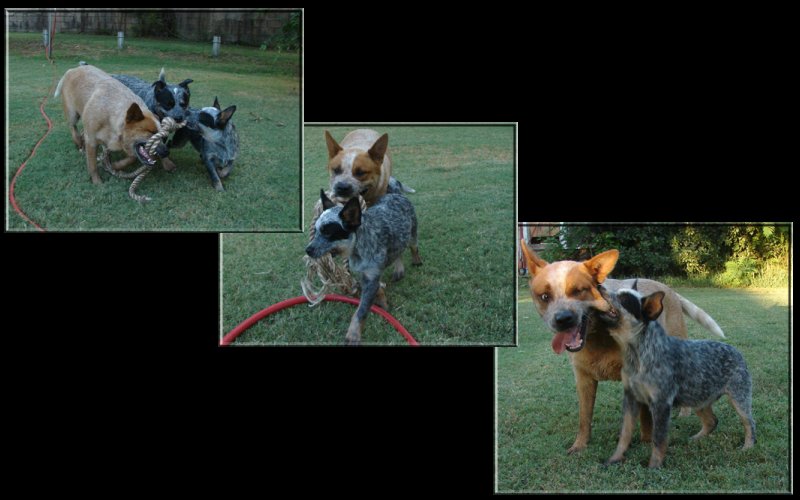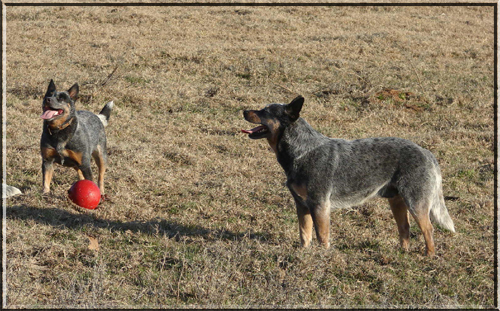 Abbie and Rocky playing with the jolly ball...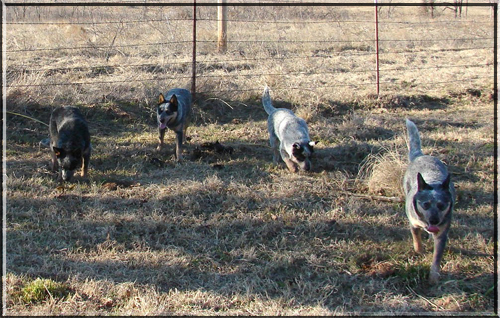 Bella...Lacey...Smoke...and Rocky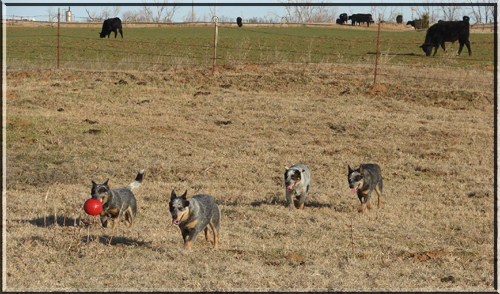 Here comes the "Blue Crew"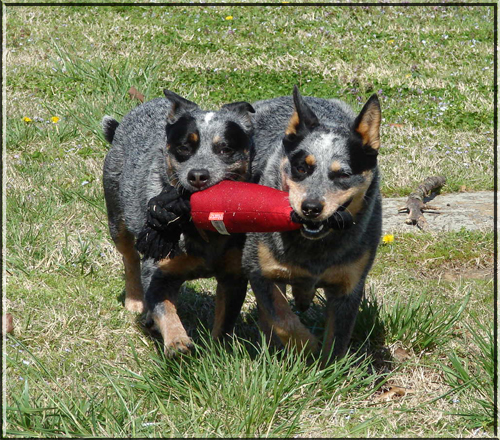 Abbie and Lacey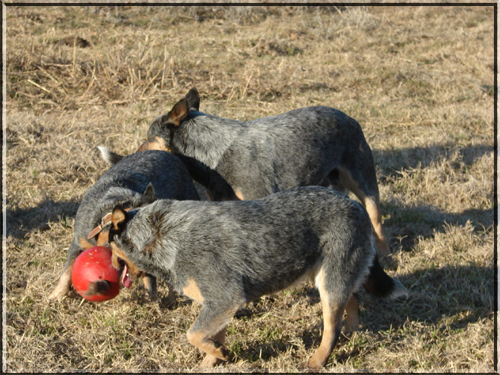 Lacey, Abbie, and Rocky playing with the jolly ball.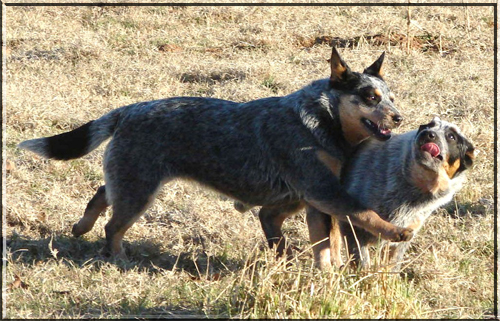 Lacey and Smoke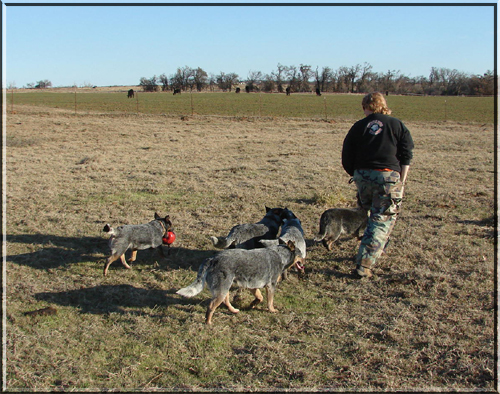 Me and my gang...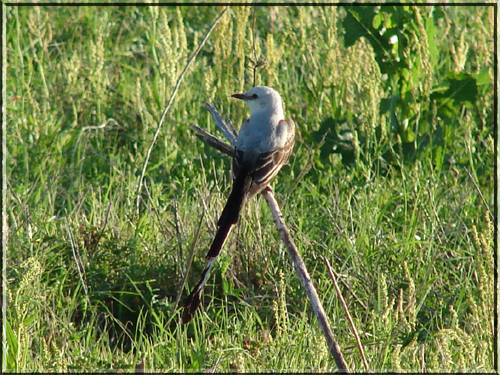 Scissortail Fly Catcher - Oklahoma State Bird