Due to popular demand, our pups are sold to those who....... simply need a cow dog!
If you are looking for a Cow Dog Pup for Work, Play, Companion, Agility, or even Show, we strive to produce the All-A-Round Australian Cattle Dog that can fill multiple positions.
We cover all health issues that can affect the canine, especially this breed.
i.e. (Hip and Elbow Dysplasia, Blindness, and Deafness)

We
microchip
all pups through Home Again, plus use preventative measures to keep all as healthy as possible.

We feed Purina Pro Plan Shredded Blend to our Adults and rely on Purina Puppy Chow for our little monsters
that provide the best nutrition available.
Puppies are imprinted at birth and are shown a lot of attention and love daily. This is not a breed for everyone, and encourage everyone to
read up on the demands this breed requires
before ever making a purchase.

Puppies...Puppies...Puppies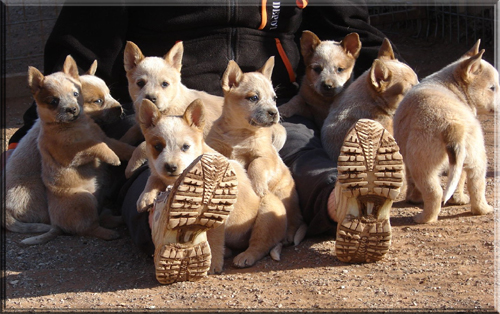 All of the above puppies have been placed into their new homes.

Thanks for looking over our upcoming planned breeding's. We take serious time in planning out our breeding and pairing up the best dogs we can in hopes of producing some very nice ACDs. I (La Vonda Lewis, RVT) have been a Certified Artificial Insemination Technician of animals for many years. Starting out with large animals, mainly cattle, and horses. With collecting, evaluating, breeding with fresh and frozen semen to hyper ovulating, harvesting and collecting embryos, then implanting them into recipient cows and horses became a early interest of mine. I feel very blessed in being able to partake and be involved in some really nice cases that have prepared me for my future interest, that has led me into the direction of canine reproduction.

I spend many hours studying, and reading each dog we have. I feel confident in our pairing of our upcoming planned breeding's. We look forward to what the future will bring here at Happy Trails ACDs, and being able to share them with others makes us happy too!



We respect your privacy and do not give out any information to third parties.
For additional information please read our Privacy Policy.
Puppy Questionnaire 1

Once we have been in contact with one another and you are ready to place a non-refundable deposit
on one of our ACD puppies please click the following link.